Questions And Answers About Spiritual Growth
Below you will find some answers to questions you may have, and many reasons why we should be continually growing in our knowledge of and relationship with God.
2 Peter 3:10-18.... But the day of the Lord will come like a thief, and then the heavens will vanish (pass away) with a thunderous crash, and the [material] elements [of the universe] will be dissolved with fire, . . . Since all these things are thus in the process of being dissolved, what kind of person ought [each of] you to be . . . So, beloved, since you are expecting these things, be eager to be found by Him [at His coming] without spot or blemish and at peace [in serene confidence, free from fears and agitating passions and moral conflicts]. . . .
18But grow in grace (undeserved favor, spiritual strength) and recognition and knowledge and understanding of our Lord and Savior Jesus Christ (the Messiah). To Him [be] glory (honor, majesty, and splendor) both now and to the day of eternity. Amen (so be it)!
We should be encouraging one-another, and especially our young people, that the building-blocks of life, and what goes into them, have everlasting results.
Spiritual Growth through Dwelling in Christ by Faith
Eph 4:11-16.... And His gifts were some to be apostles, some prophets, some evangelists , some pastors and teachers. His intention was the perfecting and the full equipping of the saints, [that they should do] the work of ministering toward building up Christ's body (the church), [that it might develop] until we all attain oneness in the faith and in the comprehension of the [full and accurate] knowledge of the Son of God, that [we might arrive] at really mature manhood (the completeness of personality which is nothing less than the standard height of Christ's own perfection), the measure of the stature of the fullness of the Christ and the completeness found in Him. So then, we may no longer be children, tossed [like ships] to and fro between chance gusts of teaching and wavering with every changing wind of doctrine, [the prey of] the cunning and cleverness of unscrupulous men, [gamblers engaged] in every shifting form of trickery in inventing errors to mislead. Rather, let our lives lovingly express truth [in all things, speaking truly, dealing truly, living truly]. Enfolded in love, let us grow up in every way and in all things into Him Who is the Head, [even] Christ (the Messiah, the Anointed one). For because of Him the whole body (the church, in all its various parts), closely joined and firmly knit together by the joints and ligaments with which it is supplied, when each part [with power adapted to its need] is working properly [in all its functions], grows to full maturity, building itself up in love.
What Part Does Faith Play In Spiritual Growth?
Rom 4:16-25.... Therefore, [inheriting] the promise is the outcome of faith and depends [entirely] on faith, in order that it might be given as an act of grace (unmerited favor), to make it stable and valid and guaranteed to all his descendants--not only to the devotees and adherents of the Law, but also to those who share the faith of Abraham, who is [thus] the father of us all. As it is written, I have made you the father of many nations. [He was appointed our father] in the sight of God in Whom he believed, Who gives life to the dead and speaks of the nonexistent things that [He has foretold and promised] as if they [already] existed. [Gen 17:5.]
The promises and provisions of God are received as we learn to have the kind of faith that believes, trusts and relies upon Him completely. Therefore, faith or complete reliance upon Jesus enables us to receive His provisions, and true spirituality submits to His Lordship and acts upon His instructions; growth in faith and spirituality should go hand in hand!
The Seven Sections of "Building-up And Equipping The Body Of Christ"
1. Basic Spiritual Instruction for God's People
2. Practical Christianity from the book of First Corinthians
3. Church administration
4. Keep the church informed about the dangers Christians face
5. Church History, present condition, and Future destiny
6. Eschatology or end-time events
7. Obedience to God can bring trouble and persecution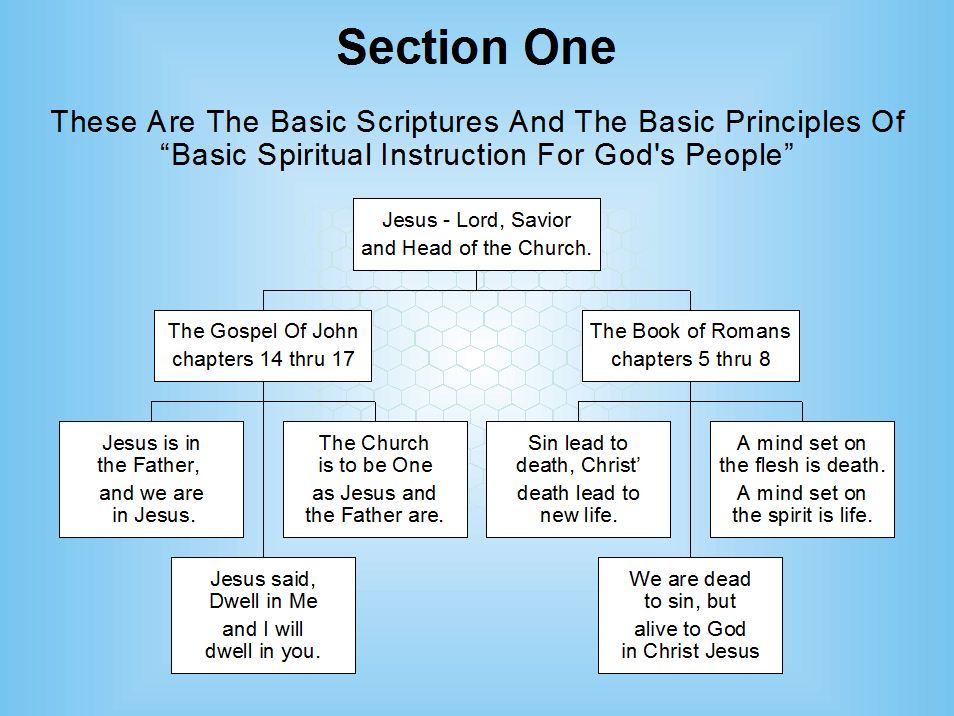 We Begin to Mirror The Image We Have Been Gazing Upon
2 Cor 3:17-18.... Now the Lord is the Spirit, and where the Spirit of the Lord is, there is liberty (emancipation from bondage, freedom). [Isa 61:1,2.] And all of us, as with unveiled face, [because we] continued to behold [in the Word of God] as in a mirror the glory of the Lord, are constantly being transfigured into His very own image in ever increasing splendor and from one degree of glory to another; [for this comes] from the Lord [Who is] the Spirit.
Prov 2:1-5.... MY SON, if you will receive my words and treasure up my commandments within you, making your ear attentive to skillful and godly Wisdom and inclining and directing your heart and mind to understanding [applying all your powers to the quest for it]; yes, if you cry out for insight and raise your voice for understanding, if you seek [Wisdom] as for silver and search for skillful and godly Wisdom as for hidden treasures, then you will understand the reverent and worshipful fear of the Lord and find the knowledge of [our omniscient] God. [Prov 1:7.]
We must constantly keep in mind that we are not only trying to gain a better understanding in our mind, but most importantly a greater depth of heart-conviction that what God has revealed to us in His Word can be true of us; as we will see when we get to the clip, "The Result Of Our Efforts."
God Has Reasons For The Things That He Does
Prov 2:6-8.... For the Lord gives skillful and godly Wisdom; from His mouth come knowledge and understanding. He hides away sound and godly Wisdom and stores it for the righteous (those who are upright and in right standing with Him); He is a shield to those who walk uprightly and in integrity, that He may guard the paths of justice; yes, He preserves the way of His saints. [1 Sam 2:9; Ps 66:8,9.]
Ps 89:14-18.... Righteousness and justice are the foundation of Your throne; mercy and loving-kindness and truth go before Your face. Blessed (happy, fortunate, to be envied) are the people who know the joyful sound [who understand and appreciate the spiritual blessings symbolized by the feasts]; they walk, O Lord, in the light and favor of Your countenance! In Your name they rejoice all the day, and in Your righteousness they are exalted. For You are the glory of their strength [their proud adornment], and by Your favor our horn is exalted and we walk with uplifted faces! For our shield belongs to the Lord, and our king to the Holy one of Israel.
It Will Be Worth It All!
Prov. 2:9-15.... Then you will understand righteousness, justice, and fair dealing [in every area and relation]; yes, you will understand every good path. For skillful and godly Wisdom shall enter into your heart, and knowledge shall be pleasant to you. Discretion shall watch over you, understanding shall keep you, to deliver you from the way of evil and the evil men, from men who speak perverse things and are liars, men who forsake the pathes of uprightness to walk in the ways of darkness, who rejoice to do evil and delight in the perverseness of evil, who are crooked in their ways, wayward and devious in their paths.
Here is the fulfillment of God's promise to give skillful and godly wisdom to those who fulfill the prescribed conditions by following His instructions.
A Working Model Of Our Human Nature
I think it Biblical, for practical purposes or ever-day living, to consider our present bodies a temporary dwelling for us to live in, our soul the person we develop into as we interact with other people and our environment, and our spirit the mind with which we think, reason and direct our lives. Since we inherit our physical characteristics and sinful nature from our parents (1 Cor. 15:21-22), it seems likely that our soul is also a part of this inheritance at conception. Then if God gives a spirit to the person the moment they begin to breathe at birth, the soul and spirit become eternally entwined at that moment. Of course we are much more complicated than that, but this may be all that we need to know until God makes some future changes. Therefore, if this working model is correct, then we can understand why it is so very important and life determining what we take into our bodies and minds and thus allow them to influence and form us into the person we will eventually become.
Impairs Our Lives
Heb 5:11-6:3.... Concerning this we have much to say which is hard to explain, since you have become dull in your [spiritual] hearing and sluggish [even slothful in achieving spiritual insight]. For even though by this time you ought to be teaching others, you actually need someone to teach you over again the very first principles of God's Word. You have come to need milk, not solid food. For everyone who continues to feed on milk is obviously inexperienced and unskilled in the doctrine of righteousness (of conformity to the divine will in purpose, thought, and action), for he is a mere infant [not able to talk yet]! But solid food is for full-grown men, for those whose senses and mental faculties are trained by practice to discriminate and distinguish between what is morally good and noble and what is evil and contrary either to divine or human law.
6:1 THEREFORE LET us go on and get past the elementary stage in the teachings and doctrine of Christ (the Messiah), advancing steadily toward the completeness and perfection that belong to spiritual maturity. Let us not again be laying the foundation of repentance and abandonment of dead works (dead formalism) and of the faith [by which you turned] to God, with teachings about purifying, the laying on of hands, the resurrection from the dead, and eternal judgment and punishment. [These are all matters of which you should have been fully aware long, long ago.] If indeed God permits, we will [now] proceed [to advanced teaching].
His First Letter To The Corinthians
Paul's first visit to Jerusalem (A.D. 38) came about 3 years after his conversion (Acts 9:26-29; Gal 1:18), and his second about A.D. 48 (Acts 11:28-30; 12:25; Gal. 2:1-10) just before his first missionary journey. When he returned from this first missionary journey, he was sent by the church in Antioch to attend the Jerusalem conference in A.D. 49 which became his third visit. Upon returning from Jerusalem to Antioch, Paul and Silas set out on Paul's second Missionary journey which lasted from about A.D. 49 to 52. They traveled up the coast of Syria visiting several cities and finally arrived at Corinth where they preached the Gospel for about 1½ years. It was from here that Paul supposedly wrote his first two letters, contained in the New Testament, to the Thessalonians.
Within a year from returning from his second missionary journey, Paul sets out on his third missionary journey lasting from A.D. 53 to 57 (Acts 18:23-21:7). Paul travels through the territories of Galatia and Phrygia to the city of Ephesus, where they stay for two years. During this period he wrote the great doctrinal Epistles to the Galatians, Corinthians, and Romans. So there was about a four or five-year period between Paul's first contact with the Corinthians and his first letter that we are going to be looking at shortly.
Map One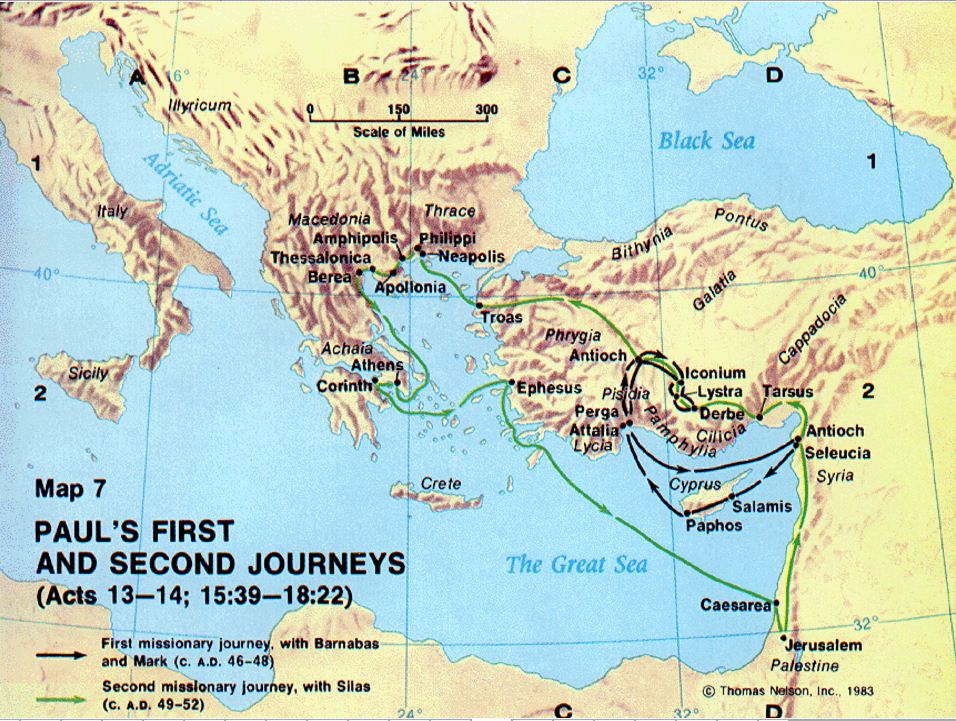 Map Two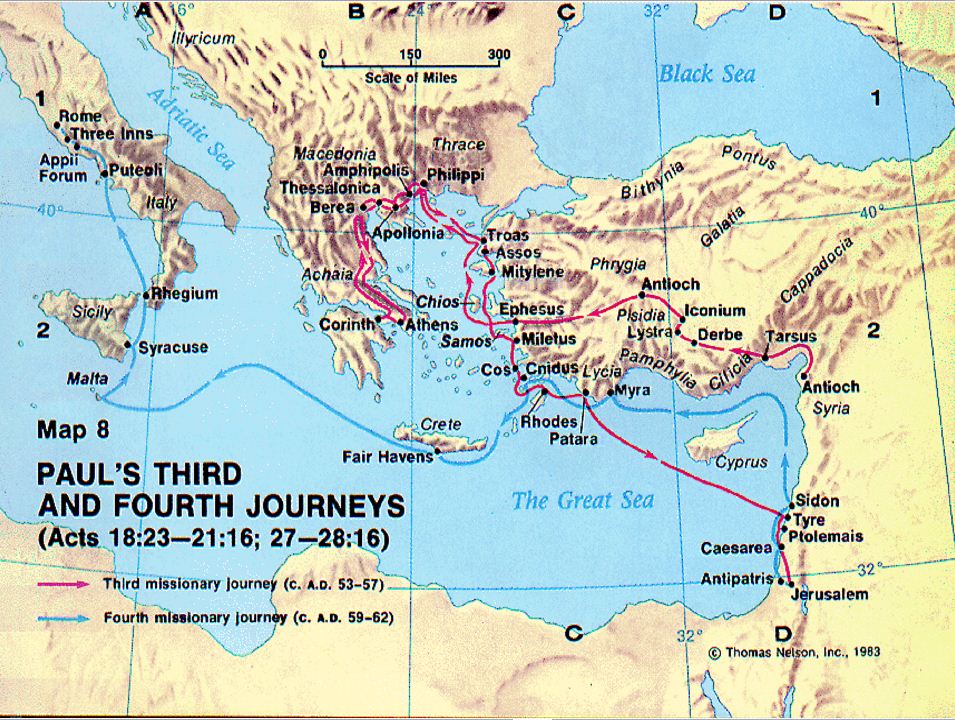 The Lack Of Spiritual Growth Endangers Our Lives
1 Cor 3:1-7.... HOWEVER, BRETHREN, I could not talk to you as to spiritual [men], but as to nonspiritual [men of the flesh, in whom the carnal nature predominates], as to mere infants [in the new life] in Christ [unable to talk yet!] I fed you with milk, not solid food, for you were not yet strong enough [to be ready for it]; but even yet you are not strong enough [to be ready for it], for you are still [unspiritual, having the nature] of the flesh [under the control of ordinary impulses]. For as long as [there are] envying and jealousy and wrangling and factions among you, are you not unspiritual and of the flesh, behaving yourselves after a human standard and like mere (unchanged) men? For when one says, I belong to Paul, and another, I belong to Apollos, are you not [proving yourselves] ordinary (unchanged) men? What then is Apollos? What is Paul? Ministering servants [not heads of parties] through whom you believed, even as the Lord appointed to each his task: I planted, Apollos watered, but God [all the while] was making it grow and [He] gave the increase. So neither he who plants is anything nor he who waters, but [only] God Who makes it grow and become greater.
The previous clips have shown that there was about a four or five-year period between Paul's first contact with the Corinthians and this letter. He had spent 1½ years instructing them, but still referred to them as nonspiritual men, and then goes on to show them why they are in this unfavorable condition – this is not a safe condition to remain in!
The Example Of Paul The Apostle
Phil 3: 1-9.... FOR THE rest, my brethren, delight yourselves in the Lord and continue to rejoice that you are in Him. To keep writing to you [over and over] of the same things is not irksome to me, and it is [a precaution] for your safety. . . . 7But whatever former things I had that might have been gains to me, I have come to consider as [one combined] loss for Christ's sake. Yes, furthermore, I count everything as loss compared to the possession of the priceless privilege (the overwhelming preciousness, the surpassing worth, and supreme advantage) of knowing Christ Jesus my Lord and of progressively becoming more deeply and intimately acquainted with Him [of perceiving and recognizing and understanding Him more fully and clearly]. For His sake I have lost everything and consider it all to be mere rubbish (refuse, dregs), in order that I may win (gain) Christ (the Anointed one), and that I may [actually] be found and known as in Him, not having any [self-achieved] righteousness that can be called my own, based on my obedience to the Law's demands (ritualistic uprightness and supposed right standing with God thus acquired), but possessing that [genuine righteousness] which comes through faith in Christ (the Anointed one), the [truly] right standing with God, which comes from God by [saving] faith.
That I May Know Him
Phil. 3:10-14.... [For my determined purpose is] that I may know Him [that I may progressively become more deeply and intimately acquainted with Him, perceiving and recognizing and understanding the wonders of His Person more strongly and more clearly], and that I may in that same way come to know the power outflowing from His resurrection [which it exerts over believers], and that I may so share His sufferings as to be continually transformed [in spirit into His likeness even] to His death, [in the hope] that if possible I may attain to the [spiritual and moral] resurrection [that lifts me] out from among the dead [even while in the body]. Not that I have now attained [this ideal], or have already been made perfect, but I press on to lay hold of (grasp) and make my own, that for which Christ Jesus (the Messiah) has laid hold of me and made me His own. I do not consider, brethren, that I have captured and made it my own [yet]; but one thing I do [it is my one aspiration]: forgetting what lies behind and straining forward to what lies ahead, I press on toward the goal to win the [supreme and heavenly] prize to which God in Christ Jesus is calling us upward.
Faithful Citizens Of Heaven
Phil. 3:15-21.... So let those [of us] who are spiritually mature and full- grown have this mind and hold these convictions; and if in any respect you have a different attitude of mind, God will make that clear to you also. Only let us hold true to what we have already attained and walk and order our lives by that. Brethren, together follow my example and observe those who live after the pattern we have set for you. For there are many, of whom I have often told you and now tell you even with tears, who walk (live) as enemies of the cross of Christ (the Anointed one). They are doomed and their fate is eternal misery (perdition); their god is their stomach (their appetites, their sensuality) and they glory in their shame, siding with earthly things and being of their party. But we are citizens of the state (commonwealth, homeland) which is in heaven, and from it also we earnestly and patiently await [the coming of] the Lord Jesus Christ (the Messiah) [as] Savior, Who will transform and fashion anew the body of our humiliation to conform to and be like the body of His glory and majesty, by exerting that power which enables Him even to subject everything to Himself.
The Point Of No Return
Ps 12:1-8.... HELP, LORD! For principled and godly people are here no more; faithfulness and the faithful vanish from among the sons of men. To his neighbor each one speaks words without use or worth or truth; with flattering lips and double heart [deceitfully] they speak. May the Lord cut off all flattering lips and the tongues that speak proud boasting, those who say, With our tongues we prevail; our lips are our own [to command at our will]--who is lord and master over us? Now will I arise, says the Lord, because the poor are oppressed, because of the groans of the needy; I will set him in safety and in the salvation for which he pants. The words and promises of the Lord are pure words, like silver refined in an earthen furnace, purified seven times over. You will keep them and preserve them, O Lord; You will guard and keep us from this [evil] generation forever.. The wicked walk or prowl about on every side, as vileness is exalted [and baseness is rated high] among the sons of men.
And Some Preparations To Consider
What is it going to be for our church or group? Are we going to put forth the effort, and make the commitment to Jesus and one another to pursue and reach the goal that Paul urged upon his readers? Are we willing to follow Paul's advice and example and the example of the Berean's who "searched the Scriptures daily," to see if what the Apostle Paul was reporting to them was faithful to the rest of the Word of God? We must choose wisely and soon, time is running short!